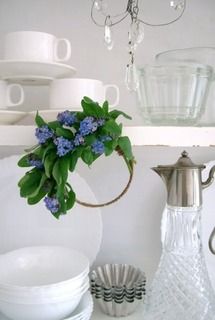 Sarah over at
Modern Country Style
is having a link party, as you've probably realised I enjoy this part of blogging it reminds me of school and being set a project, anyway Sarah has asked us to define our blogs.
I've only been blogging just over a month now but I knew from the beginning that I wanted to keep it simple and just
focus
on the things I love.
Looking back at the postings I have done so far and I see its a bit of a mixed bag of my interests, a diary of events going on at home and sometimes me going on about the weather but predominately this blog is about my love of nature, the seasons and bringing that into my home to enjoy.
I grow in my garden flowers especially to cut and bring into my home, occasionally I will make posies and flower rings because then you really get to see every detail of the flower, expecially the tiny flowers such as these Forget Me Knots.