I have had a lovely weekend here the weather again has been dry and sunny and I got a lot done in the garden tackling the little jobs you tend to put off, for instance behind the shed. In a neighbouring garden they have a very large tree that is lovely because we get lots of birds visiting and lovely bird song but it does create quit a bit of shade which so far I haven't utilised, so I thought I would use this part for shady plants such as ferns and foxgloves.
On Saturday my daughter and I did a bit of shopping and had a girls day out, she like me appreciates vintage pieces but being a fashion student prefers clothes. So she knows me well that I can't pass a skip without having a look inside and it was Chloe who spotted this weather worn mirror, it was broken but I don't mind that.
So it now sits here on my mantel with other lovely textures.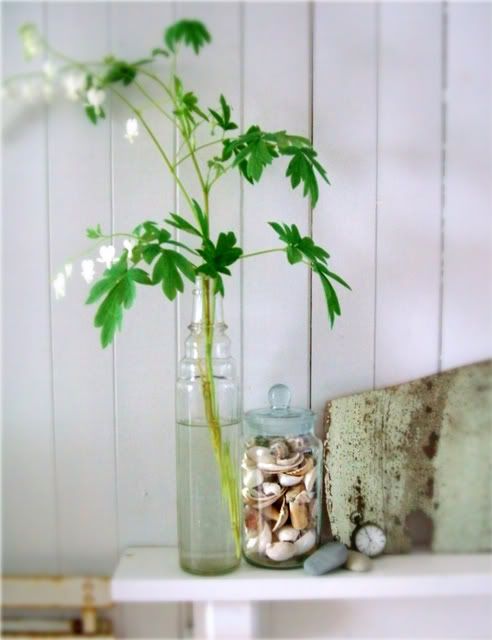 This plant is Dicentra Alba or as I call it Lady in the Bath, called that because if you turn it upside down and pull the petals apart it looks just like a lady in the bath, this is from my very tiny front garden which is north facing, so I will take a cutting from this for the shady bit in my main garden.
Today I am linking with
Boogieboard Cottage